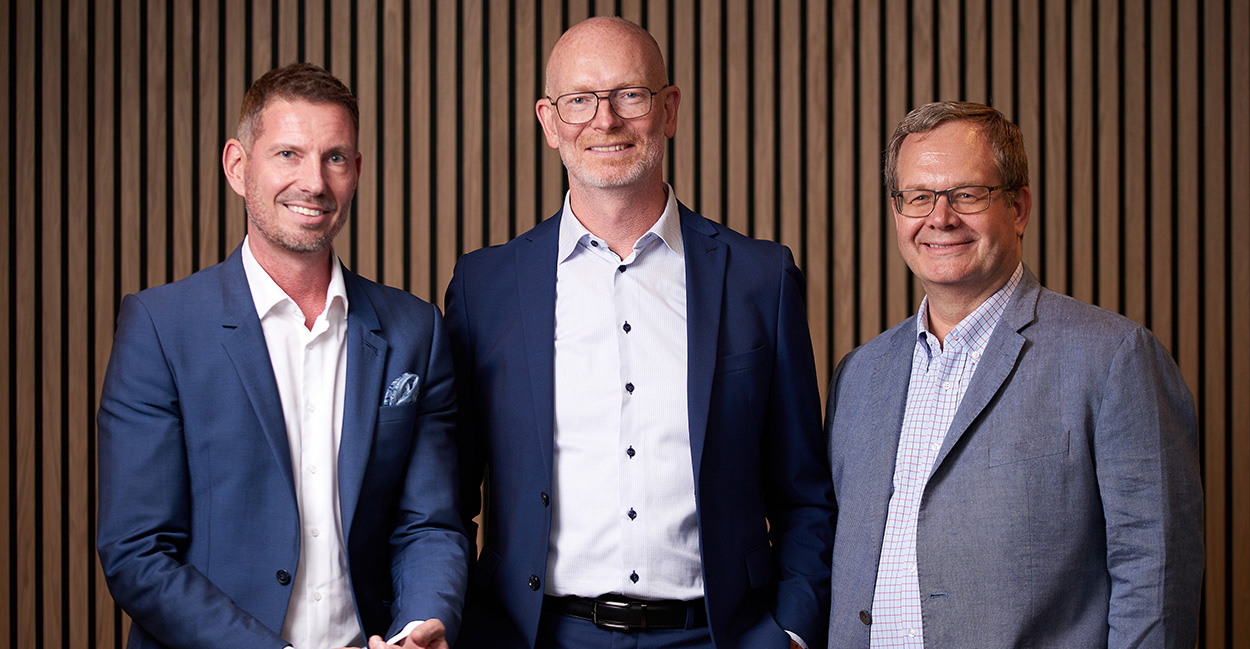 From the left: Jesper Stormes (COO) Morten-Stig Johansen (CEO, DK) Carsten Bo Skoett (CEO, HK)
The Inception:
The journey of Funnivation is a testament to determination and innovation that began long before its official founding. With origins stretching back to 2001 due to Carsten's pioneering ventures, the Funnivation company came into existence in early 2003, thanks to Raymond Suskin's vision for developing creative toys. Carsten acquired the company in 2013. Amidst considerations of rebranding and relaunching the company in a revitalized form on November 1st, 2023, the current leadership recognized the perfection of the existing name—a harmonious blend of fun and innovation.
Leadership Chronicles:
Funnivation's trajectory has been steered by the astute leadership of Jesper, Carsten, and Morten. Their individual paths converged in unique ways, shaping the company's destiny. Carsten's entrepreneurial spirit first manifested in Hong Kong in 2000. When faced with the closure of a shipping company he was working for, Carsten then got the opportunity to tap into his entrepreneurship and ambitions. He founded a representation firm that would sow the seeds for Funnivation, leveraging his extensive connections with Chinese factories to establish benchmarks in production, quality assurance, and logistics.
After having met in Hong Kong in 2001, the year 2006 marked a significant turn when Morten and Carsten reunited after Morten became CEO in a German company importing video gaming accessories. This reunion laid the groundwork for Funnivation's future. With the invaluable addition of Jesper and his valuable experience working 9 years for Dansk Supermarket and being self-employed for another 9, the triumvirate had a unified vision for a company that would be a paragon of their collective principles and dreams. The symbiotic relationship between Jesper, Carsten, and Morten has been instrumental, especially as they ventured into promising territories like Vendor Managed Inventory collaborations.
Team Funnivation:
At its core, Funnivation thrives on the synergy of a diverse and ambitious team. This global collective is renowned for their execution in sales and operational efficiency, advocating for a culture of specialization in commercial and product development spheres. By strategically outsourcing ancillary sectors such as logistics and finance, Funnivation ensures a laser focus on their prime competencies. The company's scope encompasses innovative retail concepts for entertainment electronics and furnishings, full-service supply chain solutions from ideation to after-sales, and strategic licensing partnerships, notably with Razer. Moreover, Funnivation boasts a leading distribution network for international brands in the Nordic regions, a testament to their understanding of varied consumer preferences.
Through these concerted efforts, Funnivation's influence has soared, strengthened by pivotal industry partnerships that underscore a legacy of growth and creativity.